This page has been created by the Digital Leaders on behalf of Mrs Bloor.
School Council & School Prefects
Here to Help!
Scroll down to see who we are and what we have been up to.
Also, remember to look at the School Council Notice Board and place your ideas in the suggestion box!
Hazelmere Prefects are VIPs within the school, and are selected due to being:
. Incredible role models
. Polite and kind
. Helpful- no jobs is too big or too small
. Committed
. Very positive individuals
Prefects are here to make positive changes wherever needed!
To become a Hazelmere Prefect, pupils apply to Mrs Bloor, then School Council assist in the selection process.
After Hazelmere Prefects have completed a lunchtime 'making a change' duty, they hand their monitoring records to the Head Teacher, who uses the information to generate Smartness points for classes who have been conducting themselves positively throughout the school. And we all know that whoever collects the most Smartness Points will be heading off to the Cinema at the end of the year!
Even though Hazelmere Prefects are always on duty, you will find them at lunchtimes; monitoring behaviour inside and outside of the school building, keeping our school a safe and happy place to be!
This year the School Council are becoming more involved in school life; making suggestions and offering ideas for the changes they feel are important to the children of Hazelmere.
Hello! Meet the members of our School Council.
Past Academic Years
Here are the Year 5 and 6 School Council presenting their ideas for Break and Lunchtime games to the School Governors......We got the funding we were hoping for!
School Council members went off to Witham with Mrs CC and Mrs Bond. The task was to choose new books for the school. They had a wonderful time browsing the shelves and selecting books for each year group. Well done School Council, we are looking forward to reading all these exciting new books when they reach our reading corners!
Look below to see the equipment in action at break times and lunch times!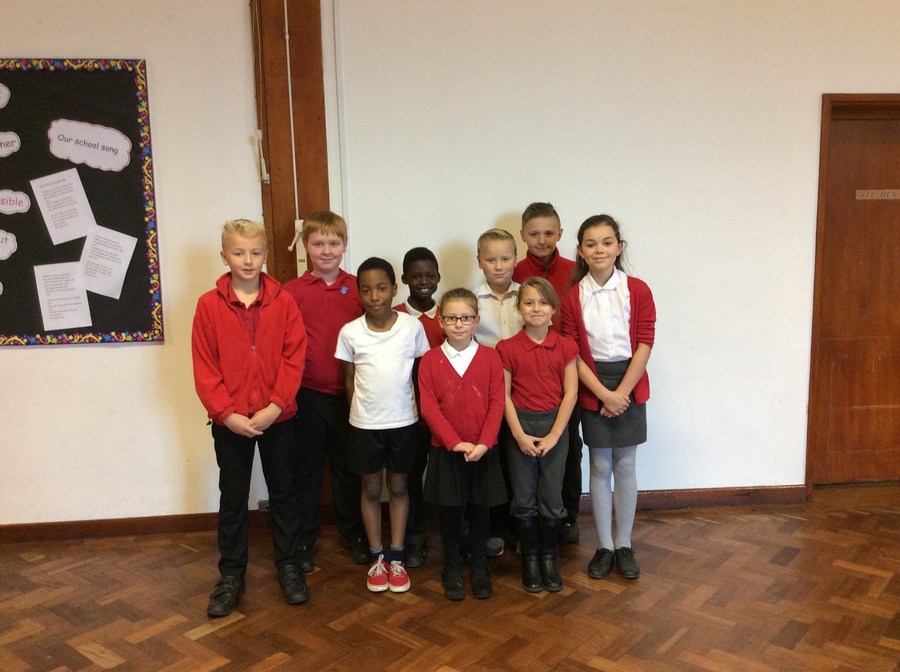 Look below - Here we are enjoying our new equipment!
The 1st job on our busy agenda was to attend a Governors meeting and share ideas as to how the school could spend money improving lunch times and break times; allowing pupils to have more choice of activities and games.